myCISV FAQs
Welcome to the myCISV FAQ page. We'll be adding new questions regularly to help you. If you have a question that is not answered on this page, please complete the form at the bottom of the page. We might add it to the list of FAQs.
If this is your first time visiting the new myCISV, check out our support materials at our myCISV Introduction page!
myCISV Troubleshooting
The following forum is a troubleshooting guide to help fix common problems on myCISV.  
If these solutions do not fix your problem, please contact your myCISV coordinator. They can be contacted using the following email using your own two-digit country-code:  
mycisv-coordinator@<

country-code>.cisv.org
If you need further support, please feel free to contact myCISV support at: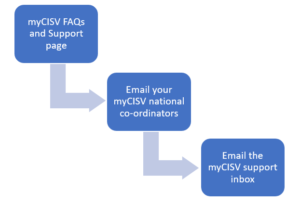 When contacting the myCISV support email, you will need to provide the following required information: