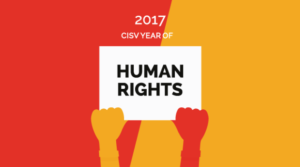 It's 2017 – Welcome to CISV's year of Human Rights!
2017 is CISV's year for Human Rights. Throughout the year, we will bring ideas, discussion pieces, materials, and resources to help you to explore, educate on, and take action toward Human Rights in your Chapter or programme. If you're interested in contributing any ideas or resources, contact the 2017 Human Rights Team.
Each year, CISV International puts the spotlight on one of our four educational content areas. This year we focus on Human Rights. What are they? Do we understand what they mean and how do they affect our lives and communities? How do they connect to Active Global Citizenship? How can we educate and empower people to take action in this area?
Big questions!
Over the course of the year, step by step, we'll be tackling these questions and more, with the aim of getting CISVers around the world to think and talk about Human Rights; in your chapters, in your programmes, and in your communities at large.