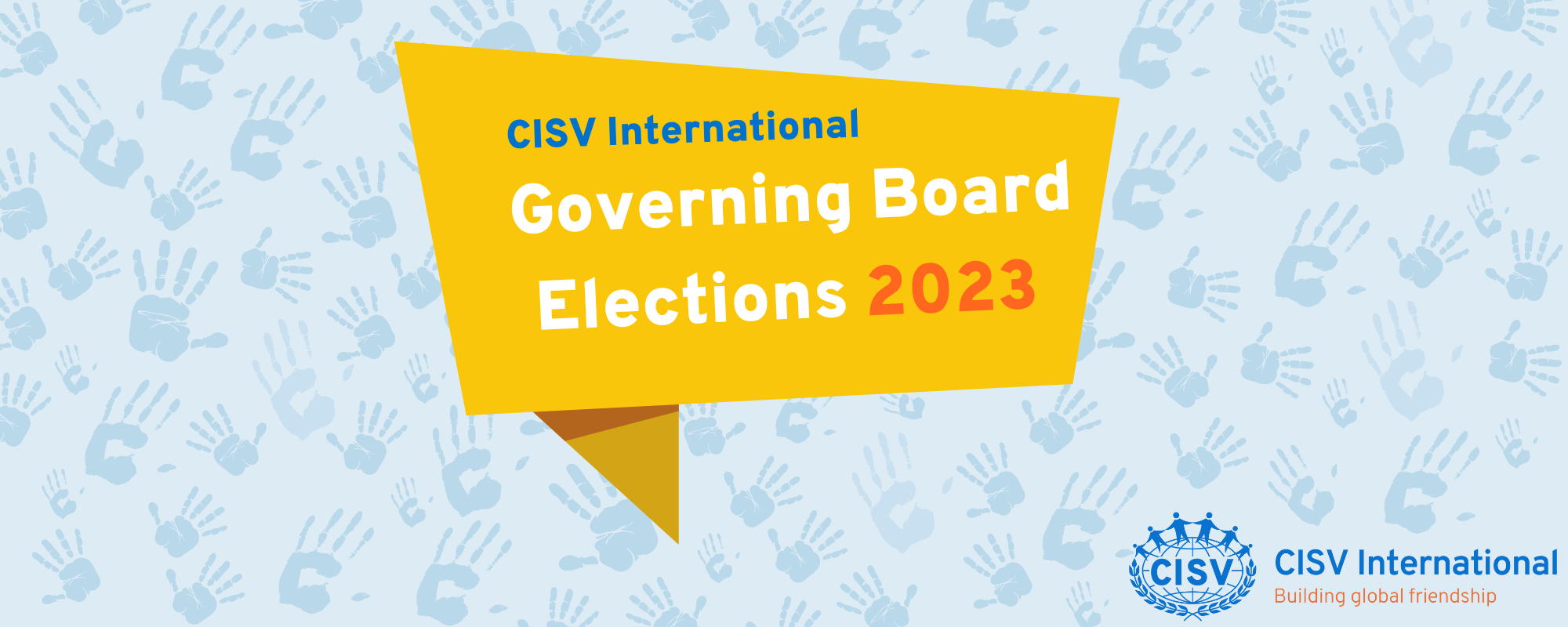 The call for candidates for the CISV International Governing Board election for 2023 is now open!
The 2023 elections will be for three Governing Board Trustees. The trustees will serve three-year terms (2023-2026).
If you have a candidate in mind or are thinking of running for election yourself, the following information and documents will give you an idea of the commitment and skills required and the terms of office.
How to become a candidate for election
Any individual qualified to serve on the Governing Board can become a candidate for election to the Governing Board by submitting a fully and properly completed Governing Board Candidate Information Package (see link below) by the deadline of 15 May 2023 (23.59 UTC).
We strongly suggest you submit your completed Information Package well in advance of the deadline. The sooner your package is complete the sooner your name can be published in the regular updates of official candidates.
Remember that you cannot be accepted as a candidate unless we have received your fully completed Information Package by 15 May (no later than 23:59 UTC).
Please also note that the Governing Board is meeting virtually for approximately 4-8 hours every month. During the year two longer in-person meetings are held for two to three days. Elected Governing Board Trustees are welcome to attend the August 2023 Governing Board meeting as observers and will be expected to attend the September 2023 meeting which is likely to be in-person. Dates for the September meeting will be announced later this year.
As the Election Committee is not a nominating body, if you do not wish to run but have someone else in mind as a potential candidate, please contact them directly to encourage their participation.
Governing Board Elections 2023 Candidate Information Package
This package consists of the following forms:
Governing Board Candidate Information Form (this must be completed, signed and submitted directly to the Election Committee by the applicant).
Endorsement Forms (two) for Governing Board Candidate (these must be completed, signed and submitted directly to the Election Committee by the endorsers).
Governing Board Candidate Confirmation of Membership and Background Check (this must be completed, signed and submitted directly to the Election Committee by the National Association of the candidate. This requires two signatures, one of which must be the National Risk Manager).
Please note that all completed forms and checks must be sent (in Word format) to election@cisv.org  
Skills Gap Analysis
The Governance Team has conducted an analysis of the Governing Board's self-reported individual strengths and gaps of remaining Board members. This may be helpful to both potential candidates and National Associations. The results of the Skills Gap Analysis for 2023 will be published shortly, following the January Governing Board meeting (21-22 Jan). Candidates who are able to fill the skills gaps would be beneficial to CISV.
Info documents
Please also read the following documents carefully:
If you have any questions, please visit our Governing Board Elections FAQs page, or contact the Election Committee.
The members of the 2023 Election Committee are: Esti Sindhunatha, Karla Valenzuela and Nadia Igsiz.